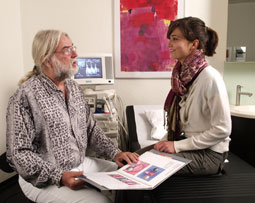 Prevention
I pay special attention to innovative prevention to maintain the health and quality of life of my patients in all stages of life.
A competent and comprehensive preventive health check may help to prevent disorders and to detect first signs of illness early on. In this context, the family, workplace, sexuality/birth control, nutrition, body care as well as necessary organ diagnostics with state-of-the-art non-invasive techniques are important to me here.
Diagnostics
What exactly do non-invasive techniques have to offer diagnostics
and where is the advantage for my patients?
I work with an ultrasound device of the latest generation to perform vaginal and abdominal, 2-d, 3-d and 4-d examinations in gynecology and prenatal care including mammary diagnostics.
Video colposcopy is used to diagnose early cell changes in the region of the external genitalia, vagina, cervix and anus. The images and findings are visible and can be easily followed by the patient due to the video transmission.
I check the stability of your pelvic floor with the vaginal tonometer.
This prevents urinary incontinence and may have a positive influence on your sexuality.
A dermatoscope allows for gentle views also into deeper skin layers to evaluate pigmented skin changes.
Using a procto-/rectoscopy and an immunological stool test pathological changes can be detected early on in the region of the rectum and colon.
I determine the risk for fractures with ultrasonography on the petrous bone through ultrasonic waves and thus detecting risks of osteoporosis early on.
Regular lab tests including an assessment of the immunization status are part of my examinations.
Constructive collaboration with qualified colleagues from supplementing fields guarantee comprehensive medical care.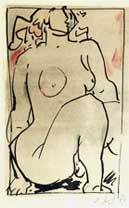 Therapy
The data gained from the check-up are conveyed in an understandable and comprehensible manner to the patients, leading to recommendations, possible therapeutic measures or surgeries, which are all discussed together with the patient.